Hello again, faithful readers and newcomers alike, I hope you've all been well. It's been a month since my last post but I hope it gave you enough to chew on until now. I certainly hope you've at least thought about checking out Ready Player One. If not, well you'll be kicking yourself when the movie comes out in the next few years, and I will say I told you so. But let's leave paper and binding aside for now (although I just started reading Stephen King's newest novel The Wind Through the Keyhole and I must say the Dark Tower has me tight in its magnetic field once again). Let's ride a mass effect relay into the far reaches of the imagination, where ruthless, single-minded alien robots called Reapers are attempting to wipe out all life and one Commander Shepard has more than a few vital choices to make…
I should warn you before you read further that this article will contain light SPOILERS on Mass Effect 3′s story. Go finish the game first and then come back to this if you haven't already. You'll get more out of it, I promise.
Today I'll be providing you with my  thoughts on one of the biggest blockbuster video games of the year and a subject of much controversy (dare I say scandal): Mass Effect 3. First, let me explain my relatively uncommon perspective with this game and the Mass Effect franchise. I've never had a chance to play Mass Effect 1. I was a PS3 owner until this year and my computer is woefully unequipped for the job. When Mass Effect 2 released on PS3 last year I was beyond psyched. The hype for the game was enormous, all my podcast buddies heralded it as one of the best games ever, and I was ready for the game to knock me flat. What I got was more disappointment than I've felt from almost any game. Maybe my mental bar was just set much too high, maybe the PS3 load times got to me, maybe I wasn't in the right state of mind, but after 10-15 hours I let the game go and never looked back.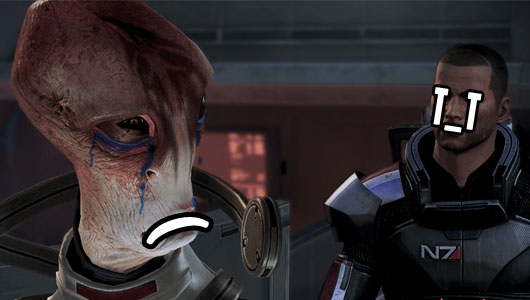 Flash forward to this year. Mass Effect 3 seemed to meet the expectations of the majority of fans right out of the gate and easily exceed them. Many claimed it was even better than 2. I began to feel hopeful. Then anger for the ending spread like STDs would if Planned Parenthood suddenly closed their doors and culminated in a metaphorical rash gamers like myself are still trying to scrub themselves clean of. Thousands of overly-entitled, selfish, though well-meaning gamers signed a petition for Bioware to change Mass Effect 3′s ending. This didn't dim my enthusiasm for the game, however. I was disappointed again, but in a section of the community rather than the game itself. Endings are never what I consume media for and they are notoriously terrible (at the very least, too short) in video games. Besides, I actually liked the demo (minus the manipulative child death, which in the end turned out to be even more manipulative). If all else failed I could still enjoy the multiplayer.
The positive energy around the game stuck with me and two weeks ago Mass Effect 3 arrived in my mailbox via GameFly. I popped it in my 360 with high hopes but few expectations (and no Prothean DLC). I loved it. The pacing was just right. My actions had meaningful consequences. I felt empowered (maybe a bit too much but it was an improvement over the powerlessness I felt in 2). I laughed (as a hungover Ashley begged me not to order Joker to sing over the intercom), I cried (as Tali sailed over the edge of a cliff when I refused to stop the Geth from destroying her fleet), and I loved Traynor as she loved me, from board game/shower lust to white-picket-fence musings. I was willing to overlook the many shortcomings, a privilege I could not afford ME2.
Sure, I still occasionally felt the fatigue and boredom of babysitting my team, making near-mandatory loading screen pause-trips to and from the Normandy and Citadel after every mission. But most of the time, I was doing those things for narrative reasons, not just for masturbatory satisfaction. Sure, there was some bullshit, like the busy-work, plot-dump ordeal inside the Consensus and the nightmare sequences. But the stories told inside that virtual reality and dream state were necessary, and they weren't told through a text box or dialogue encounter. I never really felt compelled to explore the long, unfriendly list of sidequests I accrued, most of the time involuntarily. But that allowed me to make my playthrough quick and fairly linear, just like I wanted. The combat is still lacking, but it's addictive, fun, and heightened by the much-improved level design and character level-up system ( and the multiplayer is worth several dozen hours of devotion if you have a well-trained, regular team of friends to call upon).
And, yes, I do think the ending is a  horrendous, undermining, disappointing, disheveled, mucked, slap-in-the-face to hard-core Mass Effect lovers. But, as I said before, video game endings have always been bad, and I wasn't expecting anything more from ME3. Hoping, but not expecting. The ending does bring the story to a succinct close, and that's really all it needed to do for me. I hope it will be heavily edited by the as-yet-unreleased DLC, but I don't feel it's a step Bioware needs to take. And it's definitely not worthy of a petition when there are infinitely more important things to be furious about, like the fact that most critics of other mediums and the majority of the population in general still do not take the immense story-telling power and potential of video games seriously.
For that wish to be fulfilled, Bioware, even being renowned as the story-telling heavy-weight of video games as they are, needs to step up their game by several notches (or biotic enhancements if you like). But these things take time, and as far as baby-steps go, Mass Effect 3 is a successful stumble well above the average, timid shuffle. It's a game summarized best as much greater than the sum of its parts. Fundamentally flawed and ambitious, entertaining and bittersweet, Mass Effect 3 has a huge, synthetic heart. And I hope you'll come to adore it as I have.
Shepard out.
Well there you have it, folks; a sample of my thoughts on Mass Effect 3. Have a question or comment? Feel free to leave it and a rating below or shoot me a message any way you like.
What's next for GAMH, you ask? I have a few things planned, but I'll only tell you about one of them today. Next week, my brother and I are sitting down to discuss our favorite movies of all time and recording it for your listening pleasure. This, I hope, will be a much higher quality podcast than my previous work, complete with editing, sound clips taken straight from the movies, prerecorded music and more. As such, it will take me a lot more time to bring you the final product. But, again, I hope, it will be a far better aural experience. Please be patient. As always, faithful readers, I hope to see you then. Until next time.