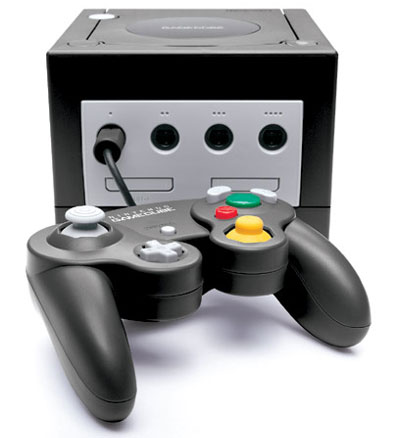 Today, I'd like to take a nostalgic trip with you all and look at a very specific part of video game history that is near to my heart: intro movies and levels from niche GameCube games that still give me chills, make me laugh, or both. The golden years of the GCN encompassed my entire adolescence, and as such it is the console I've put the most time and money into. My brother and I owned our black, little, magic, lunchbox-shaped console from Christmas of 2001 until six years later when the disc-drive finally died and we traded up to a Wii (I've since bought a silver GCN and am slowly amassing a collection once again). While the Wii allowed us to play our massive hoard of GCN titles, it never really felt the same to me, not even in playing the spectacular Wii version of Resident Evil 4.
For one thing, Brawl was disappointing. But mostly, the GameCube was around at a time in my life when I was naive enough to give Nintendo 100% of my loyalty, but at the same time I was blossoming into a hard-core gamer, albeit on a $5-20/week allowance. This growth and passion led my brother and I to explore every unturned stone in the GameCube's library, thanks in large part to my subscription to Nintendo Power, which lasted almost precisely as long as our console itself. There's no way I can tell you, as an aspiring critic, if all the games we played were good (my rose-colored glasses are so thick when it comes to the GCN that red Pikmin are invisible to me). I can tell you, however, that they all helped form my current preference palette when it comes to modern games. All of them, too, were charming in their own way, at least to a budding tween who had a hard time making friends in high school but couldn't wait to get home and grind away at Phantasy Star Online (played offline and splitscreen, of course).
PSO, and news of its soon-to-be-released (and very much-anticipated by yours truly) sequel, in particular has inspired me to share this retrospective with you, and so I think it's fitting that I leave out any Nintendo first-party franchises. The titles I select may not even be exclusives. Don't get me wrong, between my brother and I, we played almost every Mario, Zelda, Metroid, etc. But my goal is to show you, gentle reader, some stellar parts of the GCN's life I loved that you may have missed, as well as glory in times gone by. As the very quirky red-headed stepchild of its generation, the GameCube gets dissed a lot, and undeservedly so. I never miss an opportunity to bring up a few of the old girl's pearls so, without further ado, set your WaveBird to frequency 1 and let's do this.
The Startup Screen
The first thing you saw when you booted up your Nintendo GameCube, the start-up screen is every bit as memorable as the jingle accompanying that little rolling, purple box. But did you know that if you (or four players simultaneously) hold down the Z button at startup, the music will change!? I'm willing to bet many GameCube owners never discovered this Easter Egg, but it's just one more example of the loving detail Nintendo put into the little cube that could. This may not be a game intro, but it was part of every new game experience on the console.
Summoner 2
Atmospheric, dramatic, and captivating, Summoner 2′s intro is a good example of how intro movies from this era got you excited for the game but told you virtually nothing of the story. They also left the mechanics and even the genre completely up to the imagination. Fans of the game will remember Volition's Summoner 2 as a unique action RPG with strange rules and even stranger locales. It was an epic, though, with many memorable characters and plotpoints, and it holds up surprisingly well.
P.N.03
A mostly forgotten member of the Capcom Five, P.N.03 was a GCN exclusive, one part third-person shooter, one part music/rhythm game, and five parts sex appeal. Its director, the highly-regarded Shinji Mikami, would go on to help create  several other original action games including the nigh-perfect God Hand. It seems to be Mikami's curse (or gift?) that most of his games are not well-received out of the gate but earn oodles of respect with age. P.N. 03, though, I feel still hasn't gotten the recognition it deserves. Similar in aesthetic to Vanquish, the game has style oozing out of its bionic pours, and Vanessa Schneider is one of the most seductive heroines in gaming. It's hard not to get distracted by her contortions as you blast away enemy robots to the rhythm of heavy techno tunes, as witnessed in this trailer: http://www.youtube.com/watch?v=AJIXk_sHR5M&feature=related
Gauntlet: Dark Legacy
I admit, this is a bit of an arcadey guilty pleasure of mine, but you have to hand it to the voice-actor playing the wizard; after listening to his monologue, how can you not take up his challenge? "No one has dared try", you say?! Well I'm about to f***ing wipe the floor with this demon jerk! I feel only a bit of shame telling you that my brother and I both levelled our characters (yellow Jester and blue Wizard respectfully) to 99, which is no small feat, and beat the game together after several dozen hours.
Sonic Adventure 2: Battle
Having never owned a Dreamcast, I missed out on a lot of Sonic's early 3D phase, but SA2: Battle was a great port. Once again, the intro tells you little more than the bare essentials. Sonic has beef with Shadow, you can grind on rails, and this game is going to rock. That's all you need to know, really. I particularly love the music in this game, my favorite being  the ever-so-catchy Escape From the City from the first level. After all these years, I still mean to go back and finish off the Biolizard, who I was never able to beat, sadly.
Custom Robo
\
I had never heard of the Custom Robo franchise until this video released, but after seeing it I knew it was something I had to experience. The music, the arena, the variety of giant robots going toe to toe. It seemed better than a dream. Yes, one of those robos did fire giant, purple, dragon-beams at another, and you do get to do that in the game! A solid arena fighter (with some RPG elements and a mid-sized story), Custom Robo proved to be a great time for a 15-year-old. And even after all these years, the trailer still works for me.
Soul Calibur 2
First of all, let me say I think the music in this game is incredible, particularly in the trailer. The soaring brass fanfare, the thundering drums, the strangely appropriate electric guitar power chords, the singing, agitated strings, the Spanish guitar interlude, and the mellow trumpet solo as we circle the peak atop which Nightmare stands triumphant; all these work together to provide a framework for a story "eternally retold" (as witnessed by the continual release of subpar sequels).
But the way the music works together with the video really makes the intro one of the all-time greats. Seeing most of the cast fight, each in their own way, and even getting to know them a little through character scenes (like Raphael hiding in the dark alleyway) is still completely exhilarating to me as an adult. As a teenager, this game had the biggest draw a fighting game has ever offered me: a chance to play as one of my favorite avatars, the incorruptible Hero of Time himself, Link, from The Legend of Zelda. Diligently, I took him from level 1 to the high 70s after months of playing through the still-wonderful Weapon Master mode, a feature sorely missed in later installments. I still break out this game every once in a while, just to recapture that sense of utter joy of landing Link's throw from the perfect position and sending my opponent hurtling into the abyss below. A tale of souls and swords, indeed.
Lost Kingdoms
I love this game. There are some titles on this list that I've lost touch with, and all the nostalgia in the world won't help me rekindle those old flames. But Lost Kingdoms and Lost Kingdoms 2 hold a very special place in my heart. Not so much for their intros or the games themselves, but for what they represent. How many great action role-playing card-battlers can you name off the top of your head? None? That's what I'd guess. But I can point firmly at Lost Kingdoms and say, "Ah, here, we see the genre is perfectly valid." And if you didn't own a GameCube and didn't know about this game, chances are that you missed it.
But it's more than that. The mechanics of collecting runes to power your cards, the tensity and desire that comes with attempting to capture a mighty new monster (similar to that of Pokemon), the strategy of building and playing your monster deck, the sheer depressingness of the atmosphere in the land of Argwyll, the lone Princess Katia standing as the only hope for her kingdom, all of this combines to create an extremely memorable gameplay experience. It may surprise you to know that From Software, the maker of Demon's and Dark Souls, was the developer of Lost Kingdoms. That fact speaks volumes about both From's journey and the Kingdoms games' quality. The sequel went a step further and allowed yourself to become a monster too through special new cards, but the original will always be the best to me. As you may have noticed, many games on this list feature strong, heroic characters, men and women alike. As a gamer, I'm always attracted to these avatars who laugh in the face of danger and strive constantly against evil, no matter how dark the fog gets. That's who I want to be playing. That's who I want to be.
Baten Kaitos: Eternal Wings and the Lost Ocean
Another card-battler RPG (this time, turn-based), Namco's Baten Kaitos (which means "belly of the seamonster") details the epic of Kalas and his party in a story of fantasy, conspiracy, love, deceit, and redemption that is far too complex for me to state here. Spanning two disks, it contains a twist that completely floored me and left me eager for more. The best part, again, is the combat system, in which you build and play a deck for each of three characters in your party, who you can swap out for others in the cast if you wish. Gameplay starts simple but ramps up quickly as you gain access to bigger and bigger hands. By the end of the game, you'll be trying to lay cards in sequences of 9, and in the heat of battle, it's incredibly difficult to stay cool under the pressure as huge boss monsters barrel into your band of comrades. Before this game came out, I would watch this intro/trailer every day for months, hardly able to breathe as Xelha took off into the sky or as the whale hung for what seemed like an eternity above the glistening ocean.
Tales of Symphonia
Tales of Symphonia, one of several entries in the Tales series, features a story fairly similar to that of Baten Kaitos. Lloyd and his group of misfit warriors must unravel a dastardly plot employed by the government of the realm, and the story also contains a similarly shocking twist. Many of the themes and aesthetics are the same, but it's the style and gameplay that set it apart. First of all, the anime cutscenes provided a sense of realism I'd never known in a JRPG before. Watching the characters I spent over 90 hours with throughout the game come to life in high-quality cartoons pleased me to no end, and I always was searching for that next story arc that would inevitably be played out with grandiose music and heart-wrenching dialogue. The combat and character customization, too, held my attention, and every boss battle, played out in real-time, was a nail-biter. Occasionally, I'd have a few of my friends take control of the supporting characters and we would all duke it out for the fate of Sylvarant. And on bad days, of course, I would watch the intro movie over and over, reveling.
Metal Arms: Glitch in the System
One of these things is not like the other. Metal Arms is neither an RPG nor is it Japanese, but it is one of the greatest third-person action games ever made. Sadly, this is also one of the most overlooked gems of all time, so much so that I couldn't find a video of the intro cutscene without commentary. But it's absolutely worth watching, if only to listen to the general call out Screwed and Hosed one more time (guess how long they last in the war against the Mil-Bots). Aside from being just a really fun game to play, Metal Arms has a wonderful sense of humor that modern games just don't get (Lollipop Chainsaw, I'm looking at you). In every cutscene and character interaction, you'll catch jokes that are still laugh-out-loud funny. And the expository black-and-white video used to reboot Glitch's memory will always be one of my favorite gaming moments. I had never played a Fallout game, so this kind of meta, self-referential, dark, social commentary was entirely new to me in games, and I was excited by the writers' daring in Krunk's colorful, barely-bleeped language. While the game ends with a cliff-hanger, sadly, a sequel at this point seems hopelessly unlikely. Swingin' Ape Studios was bought by Blizzard and the next game was put on seemingly indefinite hold.
Phantasy Star Online: Episode 1 & 2
At long last, we finally reach the game that inspired this nostalgia trip for me. Some of my best memories of my GameCube feature my best friend at the time, my brother, and I sitting anxiously on a couch together and playing this game splitscreen for hours ad infinitum. The thrill of exploration, teamwork, grinding and leveling, raising our Mags, amassing a huge wealth of Meseta, and taking on towering boss monsters that would make some of Demon's Souls' bosses quiver were too much for our teenage minds to handle. Every day we'd run through the same areas, doing new quests. Over and over we'd fight the same enemies and we'd never get enough of it.
It would be this game, I believe, that ultimately led me to my fascination with the Souls series, as they too capitalize on exploration, level/creature design, learning through repetition, extremely solid combat mechanics, and atmosphere. But while the Souls games encourage emotions of doubt and withdrawal, PSO has never been anything but uplifting to me, if a bit daunting. The soaring soundtrack accompaniment and the ever-present optimism of the characters inside the Dome on Ragol always spurred me on, pushing me to test my limits and defend the civilians from hoards of Rag Rappies.
In the end, though, it's always this intro video that I inevitably come back to. "It's a long, long road to the palace in the sun" the singer says, and that image personifies perfectly my emotions as I stare, unblinking at the fast montage of characters, all sporting different, exotic weaponry, each looking ready to tear into a group of Giga Boomas. The music, the art, the sweeping camera across vast vistas, it all still holds me fascinated. I can hardly believe that Sega is putting out a sequel, but, at the moment, it's my most anticipated game. PSO is one of those rare games that, once you've given a bit of yourself to it, it pays it back in spades, and it's always better with a group. Hope to see you on Ragol.
End Notes
Well, there you have it folks, my list of my favorite not-so-well-remembered GameCube intros. Feel free to drop me a like and tell me what you think if you are so inclined! I'm always eager for feedback. And if you have any specific GameCube memories of your own, niche or mainstream, I'd love to hear more stories about one of my favorite consoles.
I'll leave you with one of the many great tracks from Wind Waker. See you next time.